| | |
| --- | --- |
| | Application of SMS Seating Advice in practice |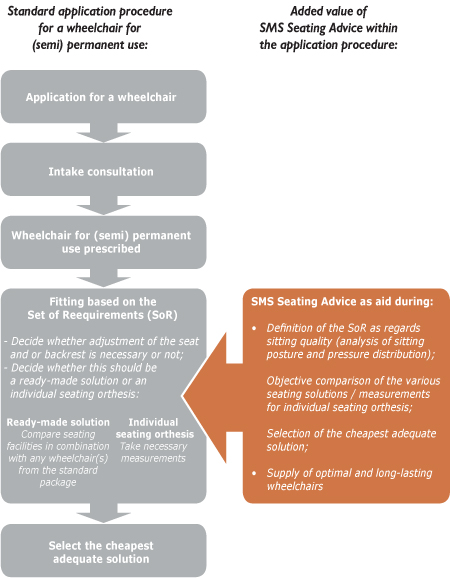 Added value SMS Seating Advice
The sit measurement system will help you to define a Set of Requirements (SoR), either for selecting ready-made solutions or for fitting someone with an individual seating orthesis.
When a SoR is being defined, the first step is to look at the envisaged use: the human-related intended use is charted. In consultation with the client, this information is then reviewed with respect to the necessary product characteristics: the product related use is charted. Finally, armed with this information and with advice from the technicians from the supplier, cheapest adequate seating and backrest support is selected.

The moment to decide whether or not the seat and/or backrest need to be adjusted for the individual is during the fitting session. A Set of Requirements has been defined and the wheelchair must fulfil these requirements technically if it is to be deemed adequate. However, the actual sitting was probably not taken into account, as the client has not yet 'been sitting'. The client may, of course, already be known to have decubitus or other seating related problems.
During the fitting session, SMS Seating Advice can be used to define this last, but crucial, section of the SoR, to compare various seating solutions or to measure the client for an individual seating orthesis in order for you to be able to select the cheapest adequate solution. The result of this objective comparison and selection of the cheapest adequate solution leads to the supply of the most optimal and long-lasting solution for the client.